Introduction Of Case
Glasses on, glasses off. The question of the hour. In light of India's Independence Day, EyesDeal- an eyewear store in Gujarat, wanted to prove how any pair of glasses can be used as a style statement to look funky, stylish, geeky, etc. The Brand came up with an exciting UGC-based campaign aptly named for the occasion "Boriyat se Aazadi."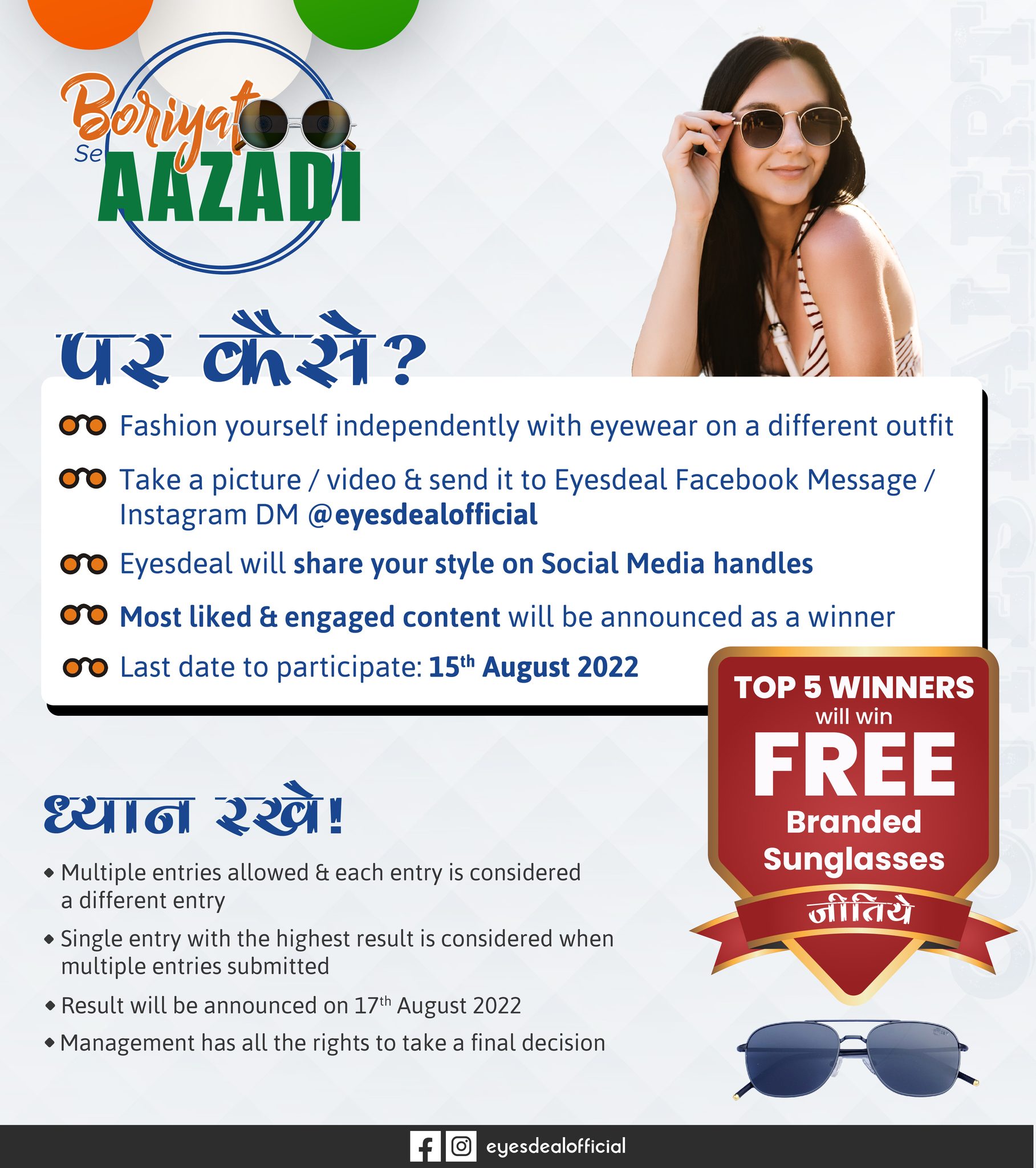 About the Brand
Eyesdeal Stores is a premium quality eyewear brand with 18 outlets across Gujarat. The Brand offers a wide range of trendy and classic designer frames, sunglasses, contact lenses, and BlueShield glasses at affordable prices. They also have a striking presence on the internet with customers PAN India.
Analysis
The vision of Eyesdeal is to give individuals the power to shop for their favourite eyewear at an affordable price. The idea is to ditch dull and old eyewear products and opt for new and modern eyewear. At iVIPANAN, we wanted to take their vision and make a successful campaign. And amazingly, we fashioned a campaign allowing Indians to take charge of their fashion sense and style eyewear with their outfits. Individuals can wear any eyewear as a style statement to look funky, stylish, geeky, etc. And we kept their campaign open for every age group. Because, well, style is timeless!
The Campaign
The campaign was set to leverage Indian Independence Day, i.e., 15th August. The motto behind it was simple. We understand the notion of being free as we reach the 75th year of Independence. That is why we campaigned with "Boriyat se Aazadi." Boriyat means boredom, and Azaadi implies Independence.
The campaign focused on living life independently and not following any fashion norm, following what you think is right, and bringing out your fashionable inner self. Wear whatever eyewear you like and create your trendsetting outfit. Because we believe that for some people, eyewear is not just for fashion but also to show off their body language and increase their confidence in public.
Campaign Proceedings
Now that we had racked our brains and brewed fresh content, it was time for implementation and camping proceedings. We analysed that people love posing when they are styling eyewear. It's true, whether channelling the Dabangg style or simply giving a zesty Preity Zinta in Kal ho Na ho vibe; everyone loves clicking photos!
So why not ask the audience for their fresh, stylish photo with eyewear? And in return, giving them a notable and branded pair of sunglasses? Also, posting their images on the Brand's social media account? Ultimately 5 winners would be selected among 35+ participants with the highest engagement rate.
Winning a pair of sunglasses just by uploading a photo? Well, that pulled the audience in!
The Result
We ran this campaign from 1st August to 15th August 2022. During 15 days, we saw an outpour of photos from our audience. We received pictures of all sorts- hot, geeky, cute, and everything in between. The campaign garnered over 10 Lakh impressions on Facebook and over 9 Lakh impressions on Instagram. The biggest awe-worthy thing was that we just spent 3,000 on Ads.
– In 15 days, Facebook's reach increased by 217%, and Instagram's reach increased by 568%.
– Page views peaked for both Facebook & Instagram with a whopping 274% increase on Instagram.
– Both social media achieved likes and followers.
– Our major targeted cities were Ahmedabad, Surat, Valsad, and Navsari. But participants came in from around the world. Ex: Germany.
– Facebook saw an excellent engagement rate with 3,314 daily page engaged users, 10,39,538 daily total reach, 10,72,882 total daily impressions, and 10,39,532 daily reach of page posts.
– Instagram, too, got increased engagements, all thanks to the campaign. The analytics showed 7,02,927 accounts reached, 2,210 accounts engaged, 9,17,646 impressions, and 940 profile visits.
– The total Ad spending on FB & Insta was Rs. 3,000/- and got 6,60,845 audience reach and 7,85,431 audience impressions. The CPC was Rs. 4.54/-.