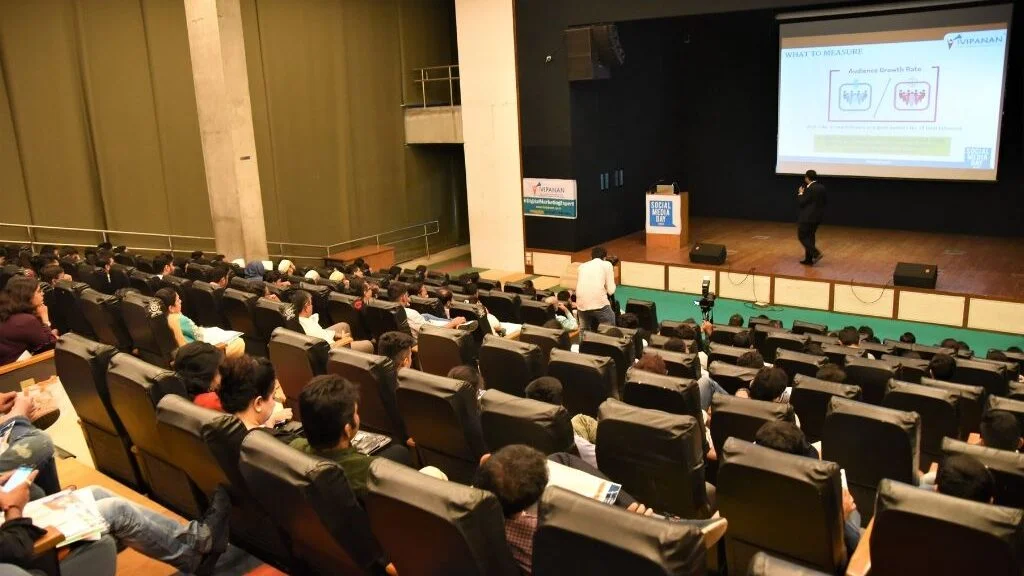 10 Reasons to attend 4th Social Media Day Surat
It was 2016 when first time Surat witnessed the celebration of Social Media day in the city. It was a time when most of the people were still not sure how to use social media can be helpful in the growth of the business or professional growth. Here are 10 reasons to attend 4th Social Media Day Surat happening on 30 June 2019, Sunday.
1. Learn about unknown hacks of Social Media: All these years, speakers speak about the various hacks, tips, and tricks that can generate a great result. Expect the same this year as well!
2. Listen to the industry experts: 3 industry experts – Bhautik Sheth, Vanitaa Raawat and Mayur Bardolia are going to speak this time. All of them are experts in their respective fields and that will bring great knowledge to the audience.
3. Engage yourself with the industry experts: You don't only need to listen to them but you can also interact with them in person. You can meet them again in person to discuss your issues related to marketing!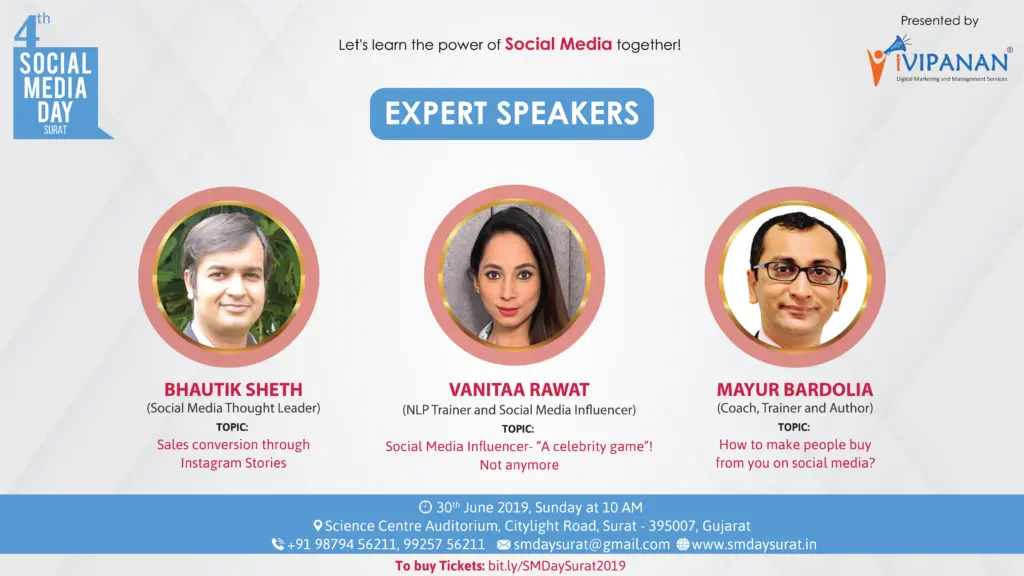 4. Ask your questions: Come prepared with your questions. You will have enough time at the end time of the event in a panel Q & A discussion round. Also, you can send extra questions in written form. Speakers will answer your questions and you will get your reply after 30th June on mail.
5. Share your thoughts about Social Media marketing: This is the right platform to share your own thoughts also about social media marketing. Maybe speakers can add some more values to your thoughts!!
6. Expert tips to rocket fuel your social media marketing strategy: Not only hacks and tips but experts will also help you in defining your strategies that can push your stagnant business a bit!
7. Going through the industry case studies: You will be given some insights to the industry case studies. The real life data surely helps in solving our marketing problems.
8. Learning the unknown strategy and tactics: New is always good! Time to brainstorm with new strategies and tactics that might be required for your business.
9. Networking: This is the right platform for networking with like-minded marketers and social media enthusiasts. Meet them, talk to them and then create a long term professional bond!
10. Connecting with experts on social media platforms: Connect with the experts on their social media platforms. I can assure you it will be a long term advantage for your growth!
Do not miss this chance to attend the Social Media extravaganza. To register, click here or get in touch at 9879456211.