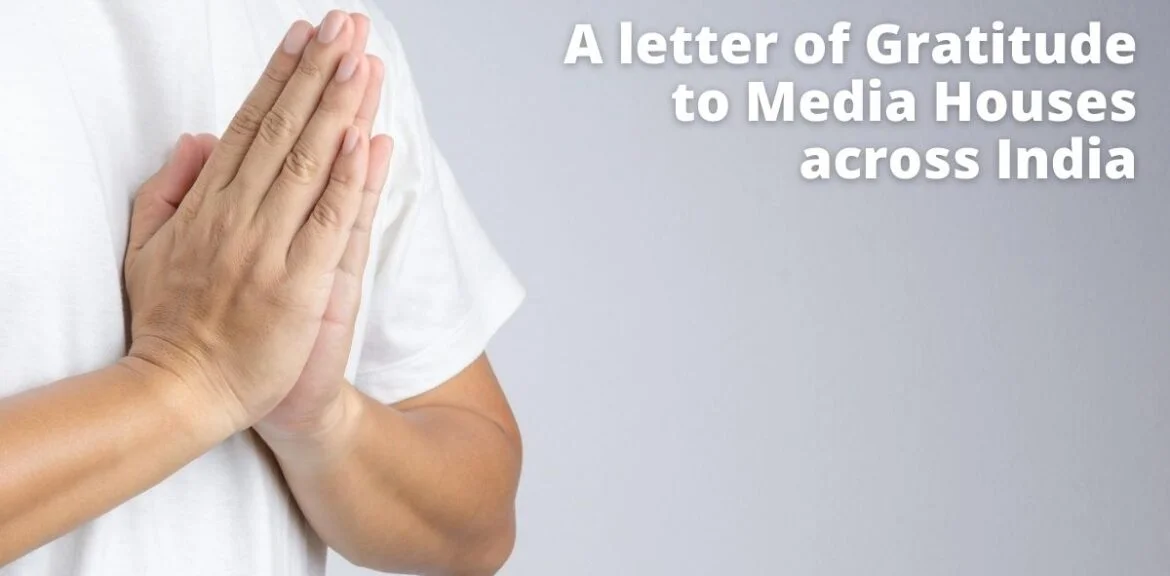 A letter of Gratitude to Media Houses across India
10th August 2020 came to us like magic. We never thought the first day of the week will start as a dream.
The story is very simple and now known to so many people. On 9th August 2020, Sunday we circulated an Email to our team members declaring 12 days paid period leave in a year with an immediate effect.
The decision was impromptu after we came to know about 10 days period leave declaration by one of the largest food delivery companies in India.
We officially announced our decision on our official blog on Monday 10th August. We published our blog link on our social media profiles and through WhatsApp to several friends in Media based in Surat.
Within a couple of hours of publishing it, we received a call from Times of India and Divya Bhaskar newspapers. They took my interview. The next day both the newspapers published the news in Surat edition.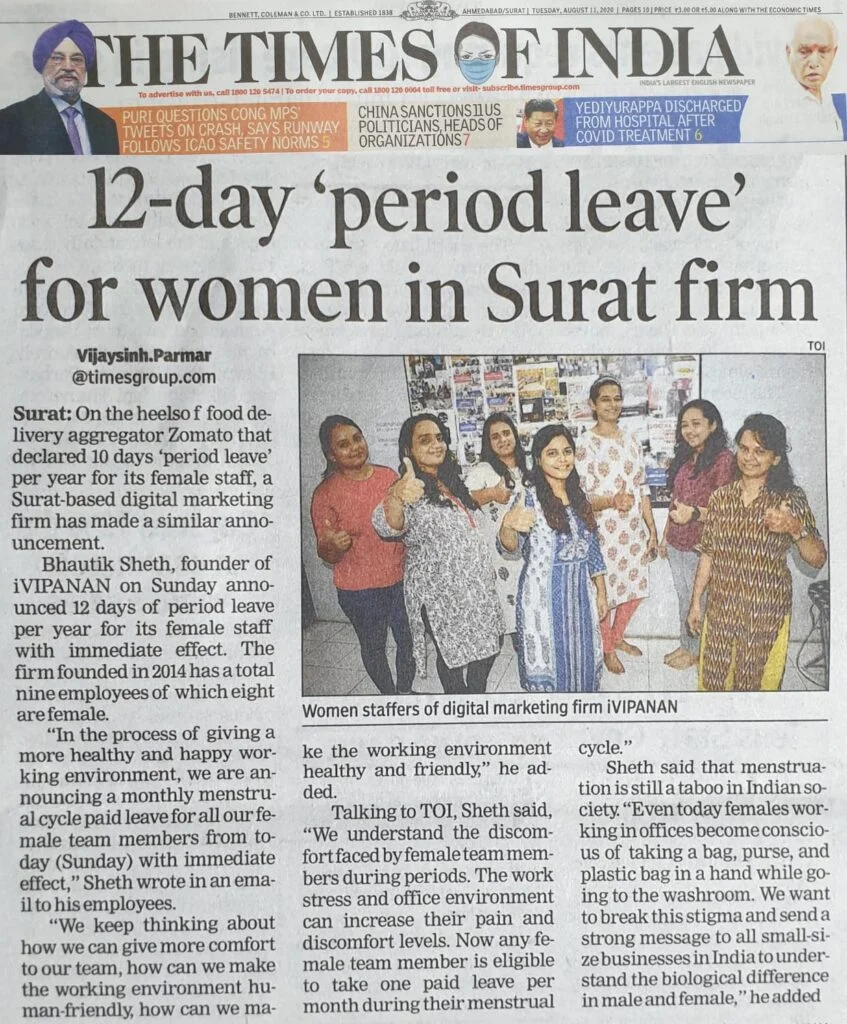 TOI Surat edition, 11th August 2020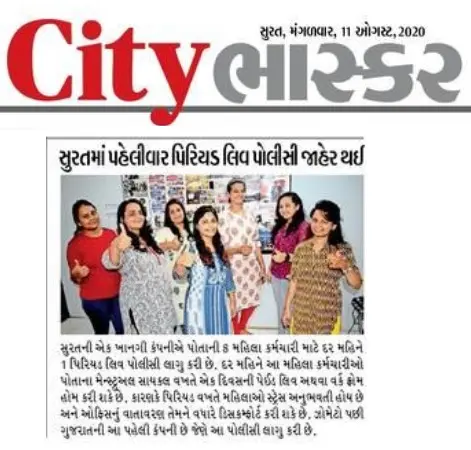 City Bhaskar (Divya Bhaskar) Surat edition, 11th August 2020
This was not the first time our company news was published in local newspapers. This time it was special.
The news was related to an initiative taken by our company. The policy was not implemented because people feel that period is taboo. It was implemented because we believe in understanding the biological need of females.
We were happy to spread the message of such a policy in Surat city. Till that time we were not knowing if it will become national news.
From 11th August to 19th August (today when I am writing this) the news of period policy has flooded in different media.
Social media, online news publishing sites, and radio stations are buzzing with this news. Being a digital media agency many people thought that we used paid media to spread the news. Let me clear that we have not spent a single penny in spreading this news and create a sensation.
Our motive as a company was very clear when we decided to implement this policy – People First. This policy is a reciprocation to the loyalty, hard work, and commitment shown by our team members over the period of time.
Our team has never said 'no' to anything we as a company have ever demanded. Working with the female-only team makes it difficult sometimes to demand. Working after office hours, going to the outskirts of the city for meetings, or working on Sunday or late night – our team has never said 'no' to us.
We feel lucky to work with people who have made this company their family. Few of them got married in the last 1-2 years, but still, they have always given priority to our company. Want to know our team? Know them here.
This policy is also a small token of gesture towards their family members. They have always supported our girls to move forward. Their contribution is enormous in the growth of our company.
Post lockdown, many small and mid-size companies are struggling to survive. Such policies may boost their confidence. We hope this will give more positivity to the owners of small organizations. We hope this will push the management of mid-sized companies one step further to think for the employees.
Out of many publications, here are some of the links:
VIDEOS:
SOCIAL MEDIA POSTS:
Thanks to RJs from various FM Radio stations across India. Thanks to them for taking my interview.
RJ Raunac – 95 Red FM Delhi

RJ Ishita

 – 95 Red FM Rajkot
RJ Shonali – 94.3 MY FM Ahmedabad
RJ Ekta – 104 FM Mirchi Love Ahmedabad, 91.9 FM Mirchi Love Surat
RJ Palak – 94.3 MY FM Surat
RJ Harshil – 91.1 FM Radio City Ahmedabad
RJ Sudeepta – 95 Red FM Jaipur
RJ Parima – 98.3 FM Radio Mirchi Surat
RJ Krutika – 92.7 Big FM Mumbai
I and my entire team are extending our heartfelt gratitude to all the media houses, radio stations, and newspapers who have helped us spread this message.
Me and my wife (and co-founder) are also thankful to our team members for making this beautiful video.
I hope more organizations will come forward with such a policy. This is not an end, this is just a beginning.
Bhautik Sheth, Founder, iVIPANAN Digital Marketing Services
19 August 2020