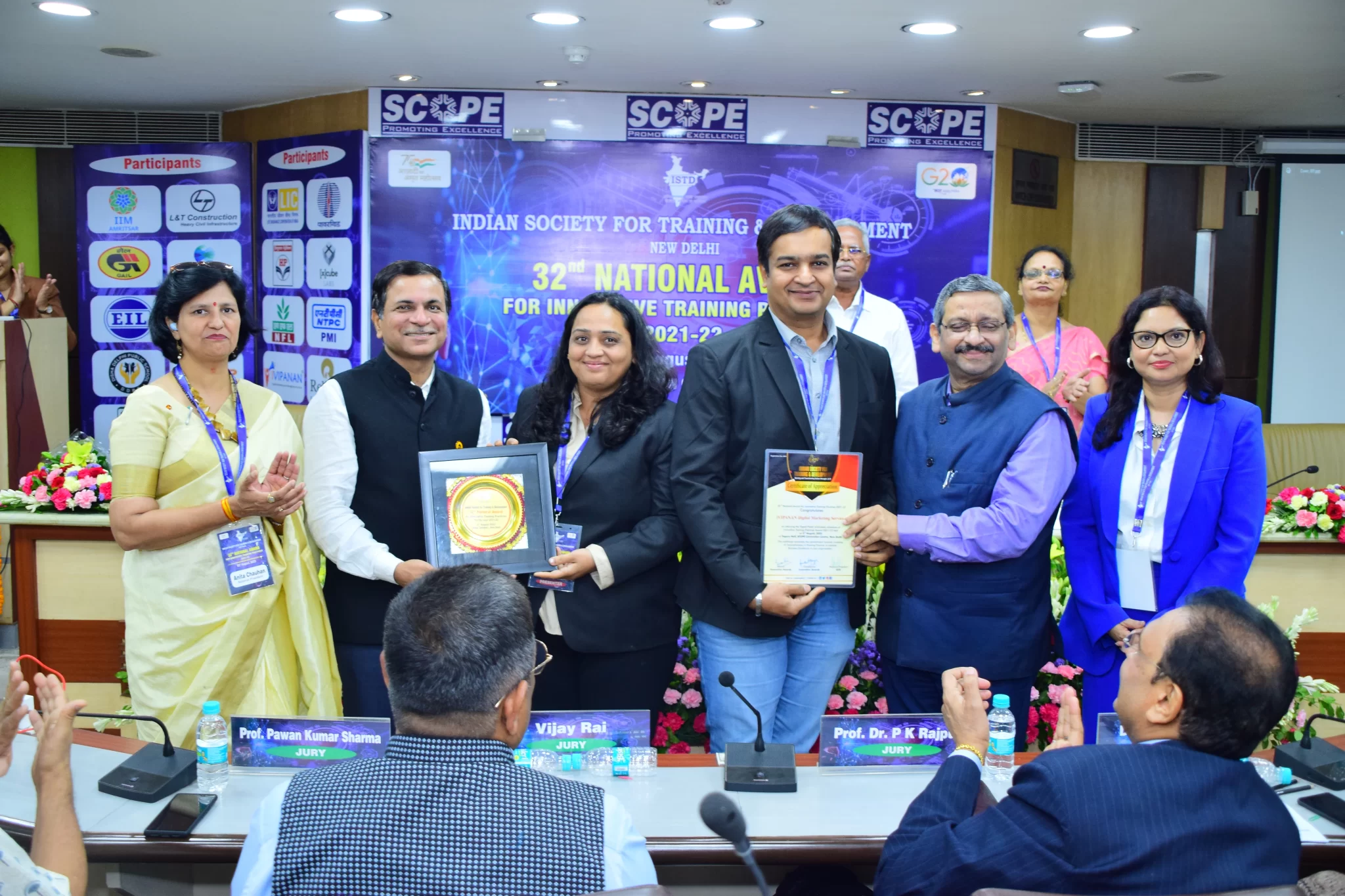 iVIPANAN Shines at 32nd Innovative Training Practices Awards by ISTD in Delhi
Delhi, [3 August 2023] – iVIPANAN, a pioneering name in the field of Digital Marketing training, secured 3rd position in the private sector (service) category in the prestigious 32nd National Awards for Innovative Training Practices organised by the Indian Society for Training and Development (ISTD) in Delhi. This remarkable achievement marks yet another milestone for iVIPANAN, asserting its commitment to excellence, innovation, and skill development. Having cleared two rounds of evaluation, the company progressed to the finale and ultimately achieved the impressive third position.
Established in 2014, iVIPANAN has consistently led the charge in Digital Marketing training and services in Surat. From its humble beginnings, iVIPANAN has evolved into a pioneer, training more than 60,000 individuals through various innovative training programs and maintaining proper synchronisation for the program. ISTD, established in April 1970, is a national-level professional & non-profit society registered under the Societies Registration Act, 1860.
It has been a guiding light in Learning & Development, offering direction to the training fraternity. ISTD has embraced technological advancements and transparency in an ever-evolving world, inviting learners to a revitalised education and skill enhancement platform.
iVIPANAN's outstanding contribution and dedication to the field of Digital Marketing earned them a well-deserved place among the top contenders in the ISTD's 32nd Innovative Training Practices Awards. The digital marketing training institute offers individuals a spectrum of internship prospects, from engaging LIVE projects to immersive Agency-style client pitching, covering the most advanced modules across various digital platforms.
Among a pool of eminent participating companies, iVIPANAN stood out and secured the third spot within the private sector (service) category in the final round of evaluation, accompanying L&T at the first and KPMG at the second position.
The Jury of five industry stalwarts was impressed by the presentation led by Bhautik Sheth and Shruti Sheth in the final round at Delhi. They both ignited the jury's knowledge by explaining the learning ecosystem, innovative training practices, training need analysis, ROI generated and impact analysis. iVIPANAN was competing with around nine other companies in the same category. The remaining participating companies were registered under Public Sector Undertaking (PSU), Private sector (manufacturing), Emerging stars and Institutes/B school categories.
The award was given by Chief Guests Mr Ayush Gupta, Director (HR), GAIL India and Mr Ranjan Kumar Mohapatra, Executive Director & Head, Indian Oil Institute of Petroleum Management and President, IFTDO Worldwide. Bhautik Sheth, Founder of iVIPANAN, said, 'We are thrilled and proud of the team for securing the third position in the esteemed ISTD awards. For us, it's not just an award; it's the realisation of a dream, a transformation of aspirations into reality. It validates our belief in the power of learning, innovation, and persistent hard work.I am grateful to the team, students, and partners who have been integral to this incredible journey.'
Shruti Sheth, Co-founder of iVIPANAN, shared her gratitude, saying, 'We wanted iVIPANAN to be a platform that not only imparts knowledge but also ignites passion. Seeing our students excel, witnessing the transformation in their careers, and now being recognised by ISTD – it's a feeling beyond words. Our journey began with a vision to bridge the gap between traditional and modern learning in Digital Marketing. Today, witnessing iVIPANAN attain this position affirms our collective efforts. Our team's collective effort, resilience, and willingness to innovate have driven this achievement. I am extremely grateful to ISTD for recognising our service and motivating us further for grand accomplishments.'
As iVIPANAN continues its journey of excellence, it remains steadfast in its mission to educate, empower, and innovate. The company's dedication to driving growth and transformation in the digital landscape inspires aspiring marketers and industry leaders.