Introduction of Case
Zevaraati, a custom jewellery brand known for its exquisite designs and craftsmanship, sought to enhance its online presence and engage with a broader audience. To strengthen the brand's connection with its customers and potential buyers, Zevaraati decided to leverage the sentiment and significance of Mother's Day through a creative online social campaign titled "Moment of Gratitude."
Client Details
Zevaraati, a distinguished name in exquisite jewellery renowned for its craftsmanship and artistic designs, specialises in creating custom-made pieces that embody elegance and beauty. Headquartered in India, Zevaraati offers meticulously crafted jewellery, including stunning diamond pieces and intricately designed gold ornaments.
With a dedication to perfection and innovation, Zevaraati's commitment to quality and aesthetic brilliance has garnered a loyal clientele that values luxury and artistry. Celebrating life's precious moments through its creations, Zevaraati continues to adorn special occasions with its elegant jewellery.
Problem in Brief & Analysis
The challenge at hand involved crafting a creative campaign to resonate with sentiments while showcasing Zevaraati's jewellery offerings. The "Moment of Gratitude" initiative aimed to encourage participation, particularly from sons and daughters, allowing them to express their feelings for their mothers. The primary objective was to amplify Zevaraati's social media engagement and expand its follower base.
A promotional strategy of more than 15 days was devised, employing diverse content formats like images, videos, and heartwarming stories to captivate and encourage participation, thereby strengthening the bond between mothers and children. Social Media platforms were strategically employed to target a broader demographic, creating submissions and interactions.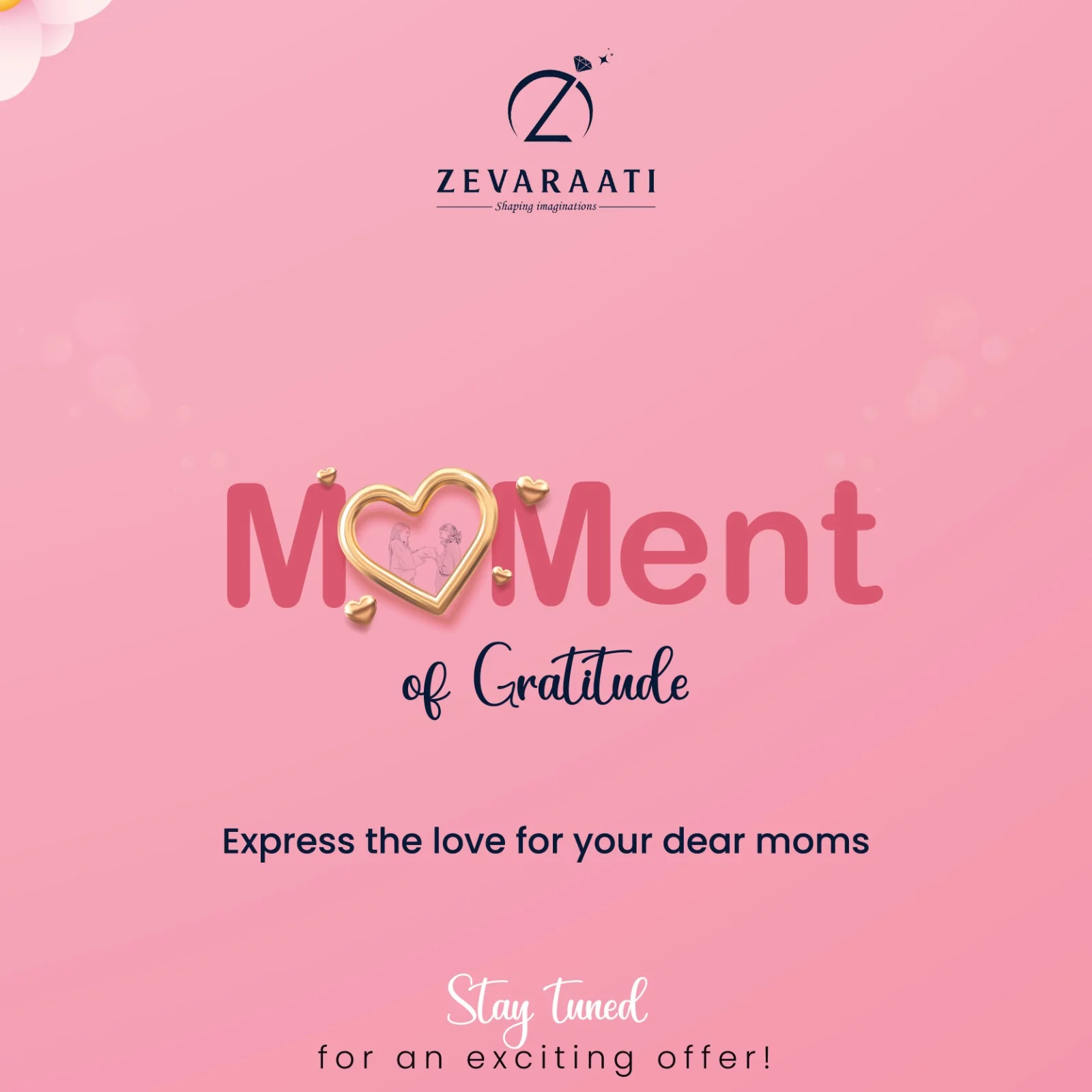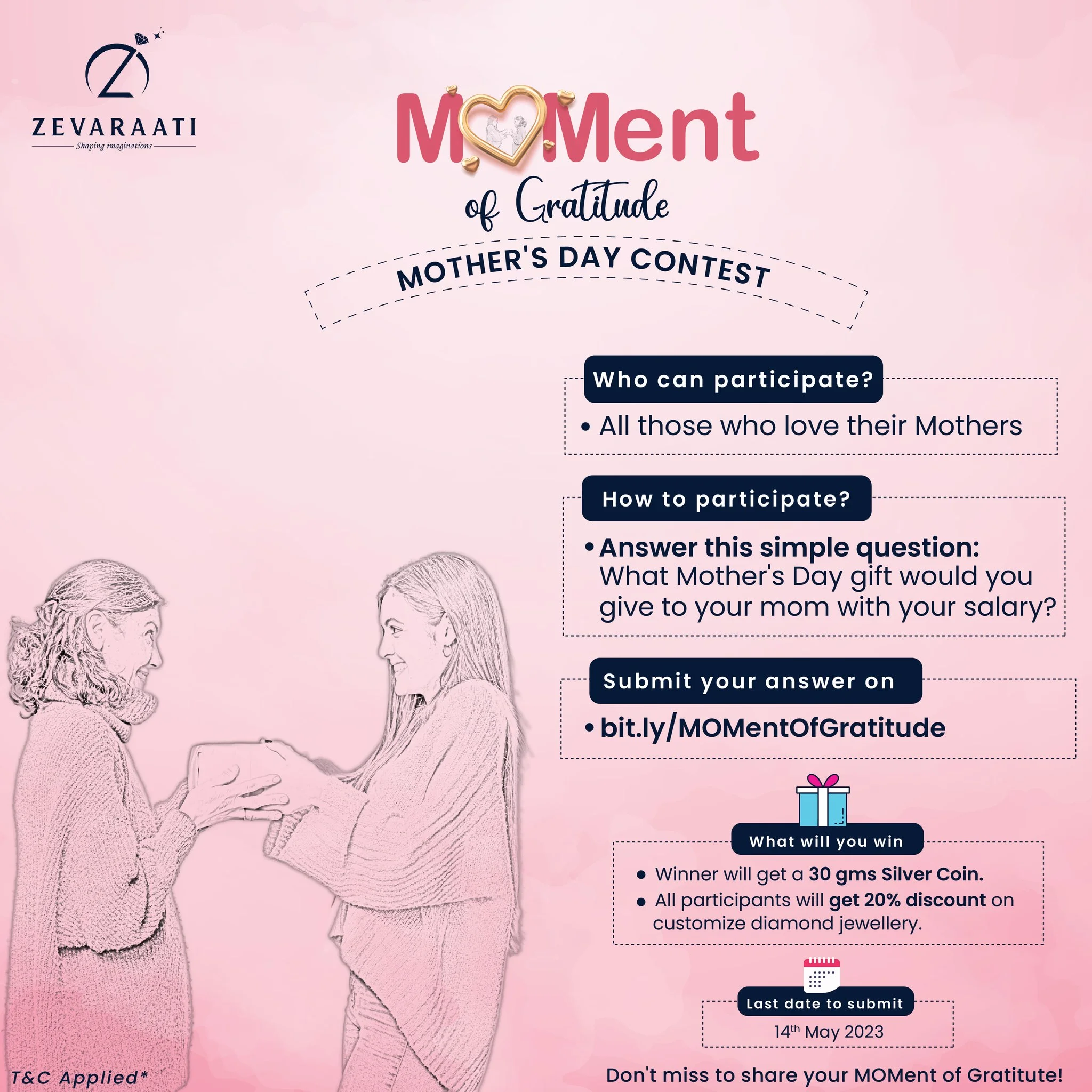 Analysis:
The campaign's success was evident as over 30 participants shared heartfelt messages nationwide. The "Moment of Gratitude" campaign had achieved a deep emotional resonance.
Zevaraati's innovative "Moment of Gratitude" campaign successfully elevated social media engagement, expanded reach and fostered a meaningful audience connection.
A deserving winner received a 30-gram silver coin, while others obtained a 20% discount coupon, engaging potential customers. Through sentiment and strategic execution, Zevaraati enhanced its social media presence, brand identity, and audience connection.
The Results:
The "Moment of Gratitude" campaign, held from May 4th to May 14th, 2023, was a captivating online initiative organised in celebration of International Mother's Day. The campaign was designed as a user-generated content engagement strategy to evoke heartfelt sentiments and appreciation for mothers.
Encouraging participants to share their expressions of love, the campaign garnered over 30 enthusiastic contributors. As a gesture of gratitude, all participants were rewarded with an exclusive 20% discount on customised diamond jewellery, enhancing their connection with the brand. Among the participants, Simar Chugh emerged as the fortunate winner of the campaign; she was gifted with a 30-gram Silver Coin. The campaign witnessed widespread participation across India, fostering a sense of unity and appreciation across the country.

The Numbers:
The campaign achieved remarkable results with optimal cost efficiency:
Reach: The campaign garnered an impressive reach of 536,960 individuals, effectively expanding the brand's visibility and engagement.

Impression: A substantial impression of 557,195 was generated, underscoring the campaign's resonance and effectiveness in capturing audience attention.

Cost Efficiency: The campaign achieved exceptional results at a minimal cost, with a cost of ₹2.75 per 1,000 people reached, demonstrating the efficient allocation of resources.

Amount Spent: The campaign accomplished these achievements with a prudent expenditure of ₹1,475.00, highlighting the cost-effective nature of the campaign's execution.
Conclusion: 
Hence, the success of Zevaraati's "Moment of Gratitude" campaign symbolises the power of creative marketing and advertising strategy orchestrated by iVIPANAN. iVIPANAN played a pivotal role in transforming Zevaraati's objectives into tangible results. 
With its strategic prowess and innovative tactics, iVIPANAN enabled Zevaraati to amplify its social media engagement, elevate brand reach, and create a profound emotional connection with its audience. The collaborative effort between Zevaraati and iVIPANAN not only achieved campaign objectives but also solidified iVIPANAN's role as the driving force behind Zevaraati's successful  "Moment of Gratitude" campaign, effectively solving the challenge at hand and delivering exceptional value to the brand.